INDIA's ROAD SECTOR 2010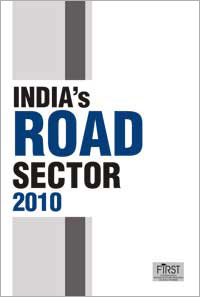 The report, spread over seven chapters covers all aspects related to the road sector in India. The first chapter captures the current status of road network with a brief outline of policy guidelines and financing pattern of road investments. It also documents the various challenges, prospects and cost management aspects. The second chapter documents in detail the various policies and regulatory framework guiding the road sector with latest amendments and policies under discussion. The third chapter is entirely devoted to financing of road development and innovative methods of financing.
The fourth chapter summarises the trend in road and bridge projects on hand. Projects costing over Rs 10 crore, are tracked by FIRST right from inception to the completion stage.
The fifth chapter covers the profile of the road sector in 16 major Indian states, including Andhra Pradesh, Bihar, Chhattisgarh, Gujarat, Haryana, Himachal Pradesh, Karnataka, Kerala, Madhya Pradesh, Maharashtra, Orissa, Punjab, Rajasthan, Tamil Nadu, Uttar Pradesh and West Bengal. The profile consists of the state of the economy, demographics, road infrastructure, and 2010-11 budgetary announcements relating to roads and bridges in the state and synopsis of all major projects on hand.
Chapter six covers profile of 13 major construction companies operating in India that have a large number of road contracts on hand. The profile covers a brief overview of the company, details of all the roads and bridges projects in their portfolio and financial highlights of 11 companies covering the period 2004-05 through 2008-09.
The last chapter presents the prospects and challenges in road sector with an attempt to provide key recommendations to overcome major challenges.
TABLE OF CONTENTS
Executive Summary
Chapter 1: An Overview
Chapter 2: Plan, Policies and Regulations
Chapter 3: Financing Road Sector
Chapter 4: Road and Bridge Projects
Chapter 5: States Road Profile
Andhra Pradesh
Madhya Pradesh
Bihar
Maharashtra
Chhattisgarh
Orissa
Gujarat
Punjab
Haryana
Rajasthan
Himachal Pradesh
Tamil Nadu
Karnataka
Uttar Pradesh
Kerala
West Bengal
Chapter 6: Company Profile
IRB Infrastructure
Madhucon Projects
IVRCL
MBL Infrastructures
Gammon
Nagarjuna Construction
Gayatri Projects
Reliance Infrastructure
GMR Infrastructure
Sadbhav Engineering
Hindustan Construction
Soma Enterprises
Larsen & Toubro
Chapter 7: Prospects and Challenges
Appendix
FORTHCOMING SECTORAL RESEARCH REPORTS BY FIRST INFOCENTRE
Roads
Construction and Real Estate
Construction Equipment and Human Resources
Public Private Partnership
Power Equipment
Civil Aviation
Ports and Shipping
Urban Infrastructure
Civic Infrastructure in Major Metros
Mass Transit Systems in Indian Metros
India's Social Infrastructure
India's Electricity Sector
Solar Energy
Wind Energy
India's Oil and Gas Sector
Shale Gas
Coal Bed Methane Gas
Renewable Energy in India
WEEKLY INDUSTRY NEWSLETTERS PUBLISHED BY FIRST INFOCENTRE
Roads/Highways/ Bridges
Infrastructure Finance
Urban Infrastructure
Ports and Shipping
Civil Aviation
Power
Oil and Gas
Real Estate
Mining and Metal
CUSTOMISED REPORTS
FIRST can prepare custom reports for you to meet you specific requirements. FIRST has vast experience in designing and compiling specific-need based reports relating to energy and infrastructure sectors in India. FIRST has a set qualified team that monitors and critically analyses the sectors of clients' interest. The team uses in-house databases, extracts market information, uses other available databases, analyzes and prepares an in-depth research report. FIRST also does forecasts in case the report demands. FIRST specialises in construction, real estate, infrastructure- physical and social, conventional and renewable sources of energy and related segments.
To book your copy of the ROAD REPORT contact:
E-mail: info@firstinfocentre.org
Address for communication:
A-303, Navbharat Estates, Zakaria Bunder Road,
Sewri (West), Mumbai, India, Pin code - 400 015
Tel. +91-22-2419 3000 Fax: +91-22-2417 5734